7 Ways To Style Chinos For A Timeless Look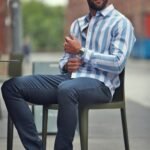 Are you tired of wearing the same style all the time? Then this in-depth guide includes all the things you need to know for styling chino trousers in the best possible ways.
Chinos are the perfect combination of smart trousers and pants to simultaneously ensure comfort and the perfect look. Chino trousers are perfect for a casual look, but you can also wear them professionally. You can wear chinos with a blazer, a dress, or a button-up shirt for a professional look.
Styling chino trousers is challenging for everyone, but now you don't need to worry because here we have put down an in-depth guide on ten ways to style chino trousers. After reading this guide, you will discover all the best and unique ways to style chino trousers.
Classic Casual
If you are looking for a relaxed and polished look, then don't wait anymore and pair your chinos with a simple white color t-shirt or wear it with a polo shirt. For a more stylish look, you can easily roll up the cuffs of your chinos slightly. Also, the pair of sneakers or boat shoes will add a touch of sophistication to your overall look. This timeless combination exudes effortless style, making it perfect for a weekend brunch or a casual day out. If you are looking for a perfect chino, this trouser is a great choice for a casual yet stylish look. Here is one of the best chino trousers for men.
Smart-Casual Perfection
Want a smart casual look; this dressing idea will be perfect for your goal. For a smart-casual ensemble, pair your chinos with a crisp button-down shirt. You can look for neutral shades like light blue, white, or soft pink for a more attractive look. Tuck in the shirt and add a leather belt for refinement. Complete the outfit with brown loafers or brogues. This combination strikes the perfect balance between casual comfort and polished sophistication. It is ideal for both a business casual setting and a dinner date.
If you are still unable to decide on the best chino trouser, don't worry; buy this perfect trouser choice for acquiring the above-defined look.
Preppy Chic
Want to show your inner preppy style? Then pair your chinos with a striped or patterned t-shirt. Go for pastel colours, your inner preppy style by pairing chinos with a striped or patterned shirt. Choose pastel hues like light blue, pink, or mint green for a fresh and youthful vibe. Finish the look with a navy blazer and suede loafers for a sophisticated twist. This style is perfect for semi-formal events and summer garden parties. If you cannot decide on the chino trouser for this formal look, we have put down a trouser suggestion for you.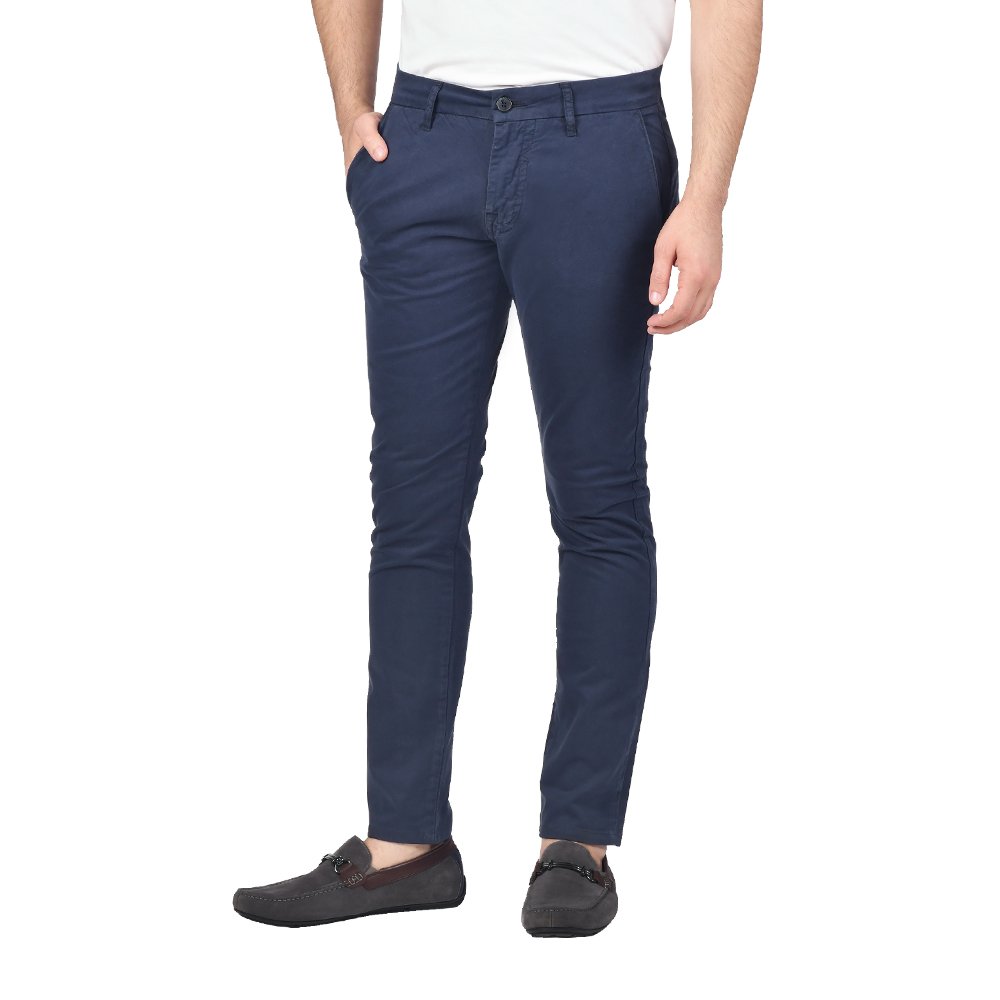 Layered Elegance
Choosing the style according to the season is not very easy. So that's why we have also decided to target style ideas according to the season. As you all know, during the colder seasons, layering is very important. Pair your chinos with a lightweight sweater or a cardigan for a cosy yet stylish look. During colder seasons, layering becomes essential. Combine your chinos with a lightweight sweater or a cardigan for a cosy yet refined look. Opt for neutral or earthy tones and accessorise with a statement watch and a scarf. In addition, if you are wondering what looks best on your foot, complete your outfit with Chelsea or desert boots to add a touch of rugged elegance. This layered ensemble is perfect for a fall or winter outing.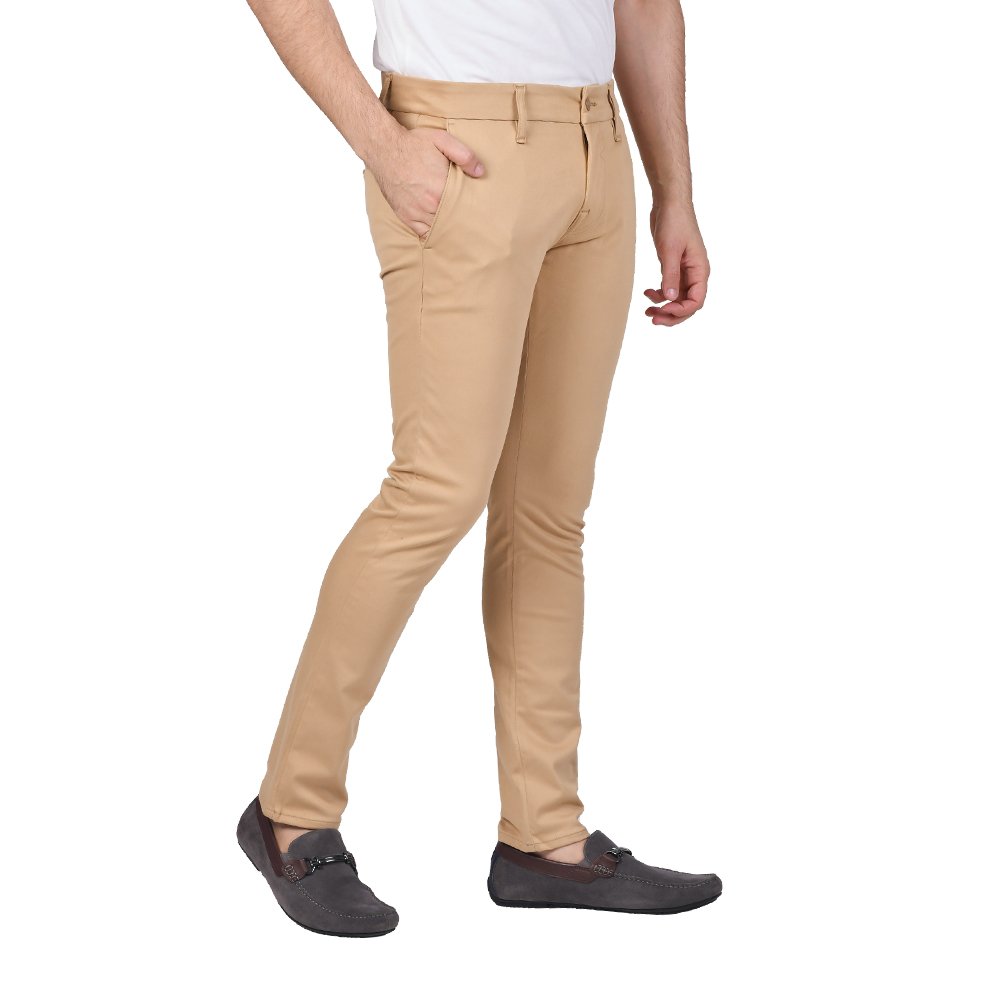 Monochromatic Magic
Are you looking for a contemporary outfit? Then here, with this outfit idea, you can embrace a monochromatic colour scheme. You can pair your men slim fit chinos with the best matching colour tones like navy, grey, or olive green. Combine different shades and textures to add depth to the look. Complete the monochromatic ensemble with minimalist sneakers or suede ankle boots. This sophisticated outfit suits various occasions, from casual dinners to social gatherings. You can also consider our recommendation to complete this look.
Summer Vibes
Stay cool and stylish during summer by pairing your chinos with a lightweight linen or chambray shirt. Opt for light colours like white, beige, or light blue to beat the heat. Roll up the sleeves and finish the outfit with woven sandals or canvas sneakers for a laid-back, beach-inspired look. This ensemble is perfect for vacations, weekend getaways, or casual summer events.
Denim Delight
Are you looking for a style that helps you create a trendy yet casual outfit? Here we have an idea to create a trendy and casual outfit by combining your chinos with a denim jacket. Choose a medium-wash jacket for a versatile look. Pair it with a simple t-shirt or a button-down shirt for a relaxed feel. Complete the outfit with white sneakers or brown leather boots. This combination adds a touch of ruggedness to your chinos, perfect for a casual day out with friends.
Conclusion
In conclusion, chinos are a versatile and timeless wardrobe staple that can elevate your style in numerous ways. Following these ten styling tips, you can create fashionable and polished looks suitable for any occasion. Chinos offer endless possibilities whether you prefer a casual or more formal aesthetic. Remember to experiment with different colour combinations, textures, and accessories to add your personal touch to each outfit. With their classic appeal and adaptability, chinos will remain a reliable choice for a timeless and stylish wardrobe. So explore these styling ideas, and make chinos your go-to piece for effortlessly chic ensembles. Go through the premium product collection of Soroor on our website.